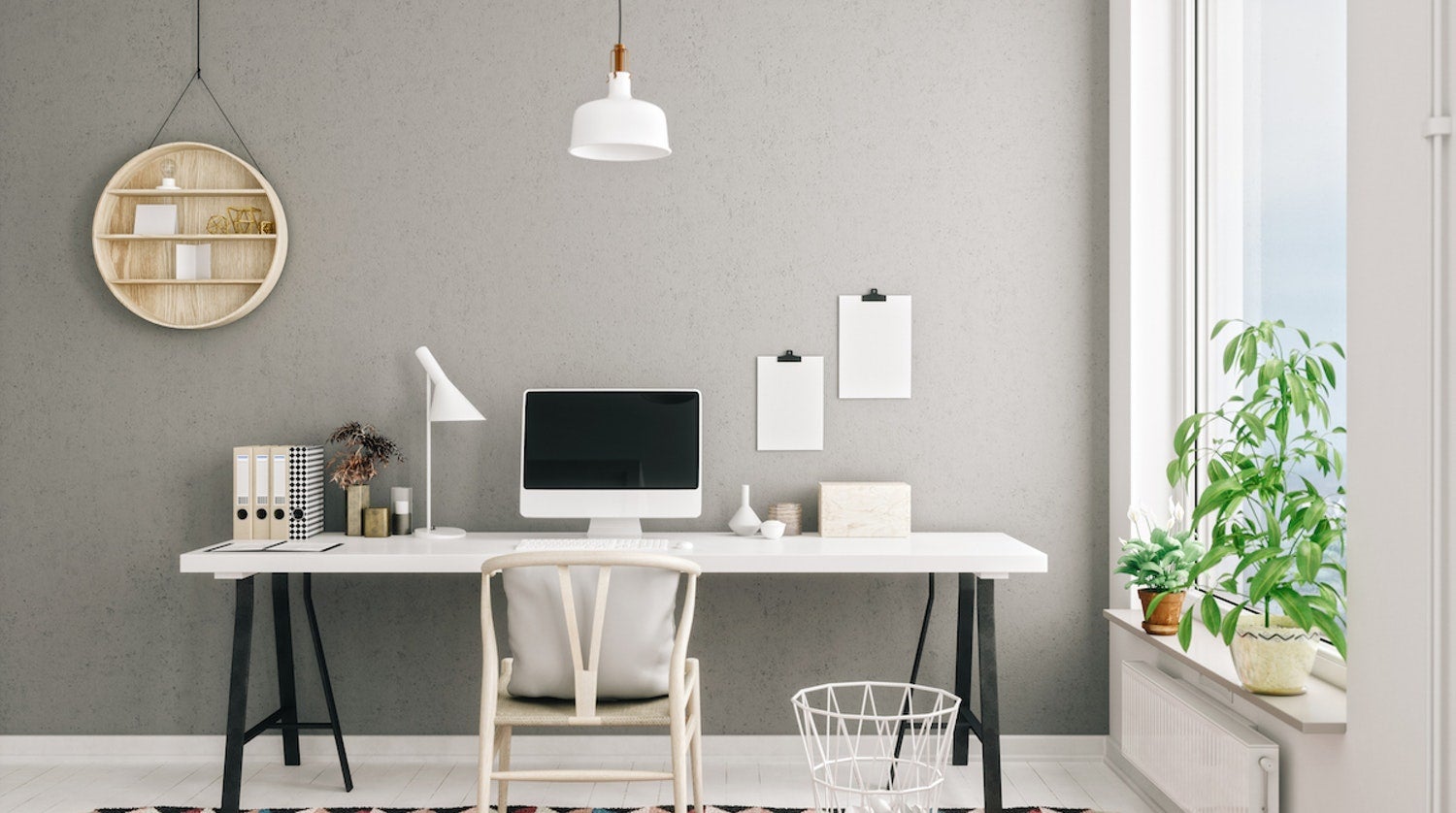 You're suddenly faced with the need to Work From Home. Here are some essential elements you need to enhance productivity in your (new) home office.
What are your goals for this new space?

Will you need to be on the phone or webinars? 
Do you need to have a creative space? 
Do you need quiet or is a little noise, okay?
What do you want to look out to? Wall, window, art?
Decide if your work can handle a bit of distraction by household foot traffic or if total isolation is required.
2. Choosing the Right Location
Then select an area in your home that will maximize those requirements. It often helps to have a conversation with others in the household about your professional space. When you are working, you will need them to respect your boundaries. If you have a dedicated office with a door and everything, then congratulations, you are miles ahead of many who fight for a quiet workspace - I included. When you close the door, it certainly sends a clear message that there is work in progress. If you have to set up shop in common use space, however, there are a few things to consider:
Try choosing an area with the least amount of traffic to minimize distractions.
If you are taking over a corner of a room like a kitchen or living space, you may want to invest in good quality noise-cancelling headphones. When they are on, it means you are in business.
Define your office hours for you and with family members. This conversation will go far in assisting them in respecting your working hours. It will also help you maintain your work/life balance that sometimes gets lost when you work from home.
Create a sign on your door or wall with your "do not disturb" or "working hours."  Sharing a space may mean defining your boundaries.
3. Clutter & Organization
This point is particularly crucial if you have an open space in your home. You will want to keep it clutter-free to minimize the messiness when you have visitors. Plus, less clutter will keep the area open and give a more substantial feeling. Having a bunch of clutter will continuously remind you there is work to be done.
Less paper means less clutter 
You may want to consider going paperless or at least decreasing the amount you need. In today's environmental climate, it's certainly a hot topic. Consider external hard drives and digital storage devices for this purpose. Not only will they keep the space bright and clutter-free, but they are more mobile too.
Be purposeful when deciding the function of your space. If the office is serving multiple purposes, it will be tough to focus. It can completely clutter your head-space. It is common for work at home moms to allow their children to occupy the office space. Before you know it, there are drawings, toys and arts and crafts sprawled over your month-end analysis. These may help:
Have a separate area or drawer for all their masterpieces and keep your home office well-defined for your purpose.
Choose the right furniture and go far in creating functionality. 
Less is more when it comes to a small home office. By creating a simple, functional space, you will be able to stay focused and productive.
"There are inexpensive units you can buy now that add to the overall décor of a room," says Halifax Interior Decorator Genevieve Clarke. "By purchasing pieces that are specifically designed to house printers, files and computers, you can close the cabinets, shut the drawers when not in use."These units create a clean and organized feel.Hand in hand with office equipment-specific furniture is the trick of going vertical. In other words, get rid of the sprawling desk, tables, multiple chairs, and tonnes of filing cabinets. Instead, consider shelves and wall cabinets that don't take away the floor space, says Clarke.Choose a smaller, wooden table with rounded edges to compliment the area and don't forget to make use of the space under the desk.  
5. Colors, Creativity & Decor
Decorate strategically.  
Be thoughtful in your choices.
Colors are powerful. Make this space your own and a place where you can be creative and productive. Choose colours that suit your taste and make you feel like you want to be there.
6. Bring the Outdoors in with a Wood Element
According to one of the principles of Feng Shui, you may want to incorporate a wood element into your space. This natural element could easily be a small, wooden desk. Consider plants. They make the perfect pairing with wood elements."If you are adding in plants, keep them small and simple," adds Clarke.Not only will the greenery add an unobtrusive color to the room, but plants will also give a sense of warmth and energy. Plants oxygenate a small place, helping you stay alert and awake. They can also increase the humidity around your desk and remove toxins from the air.
7. Natural Light is Naturally Beneficial
According to a study published in the Journal of Clinical Sleep Medicine, allowing natural light in a home office will increase productivity. Have your desk or chair facing a window or door with unobstructed views. Just make sure you don't start daydreaming!  This natural source of vitamin D will increase your happiness level, helping you keep calm and creative, and boost your immune system - which we all need right now, am I right?If you do work nights, make sure you have a work lamp at your desk and a soft light that's not too harsh on your eyes.
Other Things to Consider When Working From Home
Get started early
Act like you are at the office. This means to wake up and get ready for the day (shower, dress, etc) 
Set up a daily routine - Get your creative work in the morning with a fresh mind and leave the tasks for later in the day. You'll end up being more productive.
Schedule your breaks - as much as we all need to stay inside, there are ways to maintain social distancing and still breathe some fresh air and move around.
Take a walk - or exercise indoors - and stay hydrated.
Reconnect with friends and family through calls, text, and videos.
Stay hopeful and surround yourself with positive people and positive information.
Creating a home office can be fun. Take the opportunity to use your creativity in creating a work oasis. Make it a place where you can nurture your professional development, boost your productivity, and find energy in your work. Be safe everyone!
Cheers, 
Sonny




source: REW